Mayim Bialik Reveals She's Hosting 'Jeopardy!' Until May, Wants Permanent Job
[ad_1]

Mayim Bialik has revealed she is currently pencilled in to continue hosting Jeopardy! until early May—though she's hoping to eventually land the job permanently.
The Call Me Kat star, 46, is currently splitting Jeopardy! presenting duties with Ken Jennings for Season 38, as fans of the syndicated quiz show continue to await the announcement of a replacement for beloved late host Alex Trebek.
And while attending Sunday's Critics' Choice Awards, the actress told Entertainment Tonight that she remains hopeful that the coveted job will eventually go to her.
"I would love that," she said of potentially becoming the new Jeopardy! host. "I like to say, I've lived season to season, since I was about 13 years old. So, what I know is I'm hosting until May 6, and beyond that, hopefully."
The California native added: "Hopefully, I'll know more before May 6."
Should Bialik get the job, she would become the first woman to host the long-running show in the decades since it debuted—a factor that isn't lost on her.
"I think being a female is its own mark," she said. "My grandparents were immigrants to this country, so I think for me, in two generations being a woman and a host in that iconic role blows my mind."
Elsewhere in the interview, Bialik spoke of meeting the family of late presenter Trebek, who passed away in November 2020 after battling cancer.
"I got to meet them when we dedicated the stage and just feel so humbled around them," she recalled.
"I want to only honor. You can't match him, so there's no need to try, but do it continuously, and have their blessing and feel what they are doing is supporting that legacy."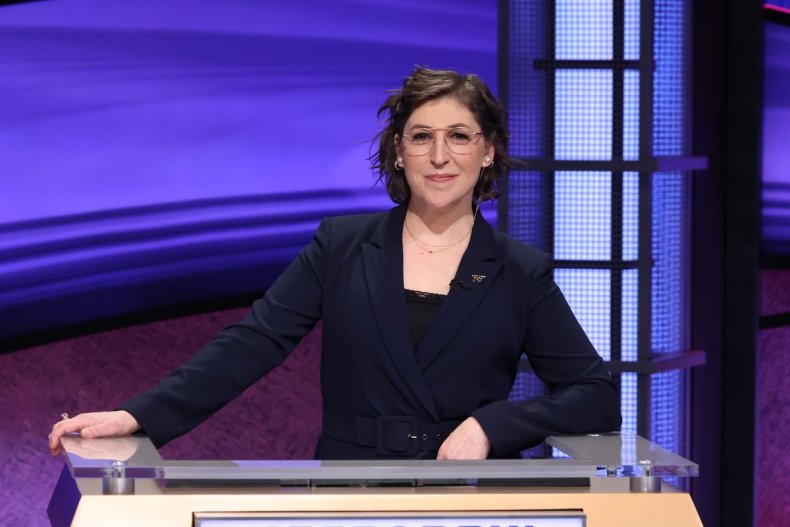 The road to appointing a new permanent Jeopardy! host has been a decidedly bumpy one, though things started seemingly smoothly with a long list of celebrity guest presenters who stepped up to the lectern for much of Season 37.
After several months of speculation, it was announced in August that then-executive producer Mike Richards had landed the role, with Bialik hosting the Jeopardy! specials and tournaments.
Nine days after the announcement, Richards stepped down from his role amid a storm of controversy over offensive comments he had made on a now-defunct podcast several years ago. By the end of August, he was also out of his job as executive producer.
Richards' blink-and-you'll-miss-it moment at the helm meant that he had only recorded one week's worth of episodes for Season 38. Bialik stepped in immediately afterward, before it was announced that she and Jennings would share the job.
In an essay for Newsweek, published back in September, The Big Bang Theory star Bialik spoke out for the first time about Richards' rapid departure.
Recounting the "awesome" news she had received from executives at Sony Pictures Television in August about her new job, she revealed that she was, at the time, in the dark about who would be hosting the primetime show.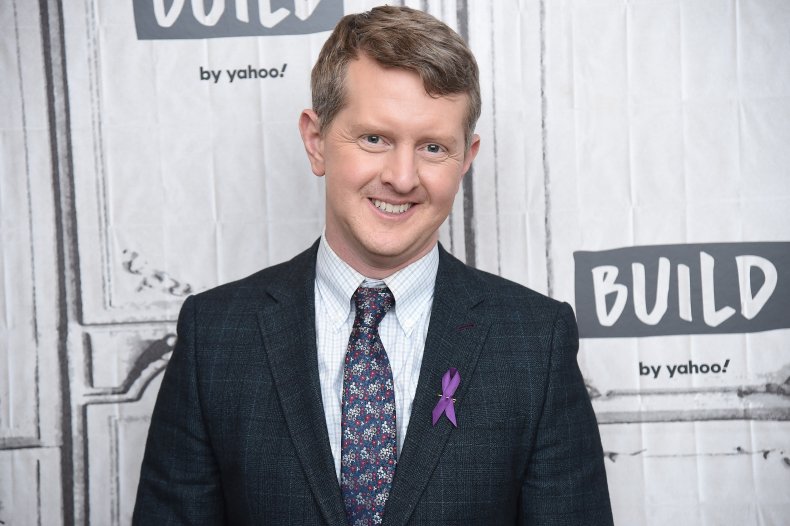 She wrote: "I didn't immediately know who the other host was going to be, and after Mike Richards was announced as permanent host, a couple more weeks passed and then everything changed and Mike stepped down.
"I think everyone who works with me will say that, as a person who has been acting since I was a kid, I go where I'm pointed and I do the job I'm told to do. I do what's in front of me. I don't really follow the news aspect of my industry too much. That's how I approached what was going on."
"Of course I was in touch with Mike as he was my boss at that time, and I don't wish ill on him, or anyone," she went on. "But the complexity of these situations is not something that can be summed up easily.
"My first response, when all of this went down, was to say to the Jeopardy! team: 'How can I help?' Because I am part of this family."
Still, Bialik wrote in her essay, she felt "honored" to have landed a role that she described as "dreamy."
She said: "I feel very honored to have been given the responsibility and the opportunity to step up into this hosting position. It's been as dreamy as it was for the two days that I guest hosted.
"I work very long days, but they fly by. We shoot five episodes a day and I get to meet fascinating people from all walks of life.
"Of course, I am grateful and honored to carve out so much of my time on behalf of Jeopardy!, because I feel very connected to the show, the legacy and everything that Alex and the team behind the scenes have built."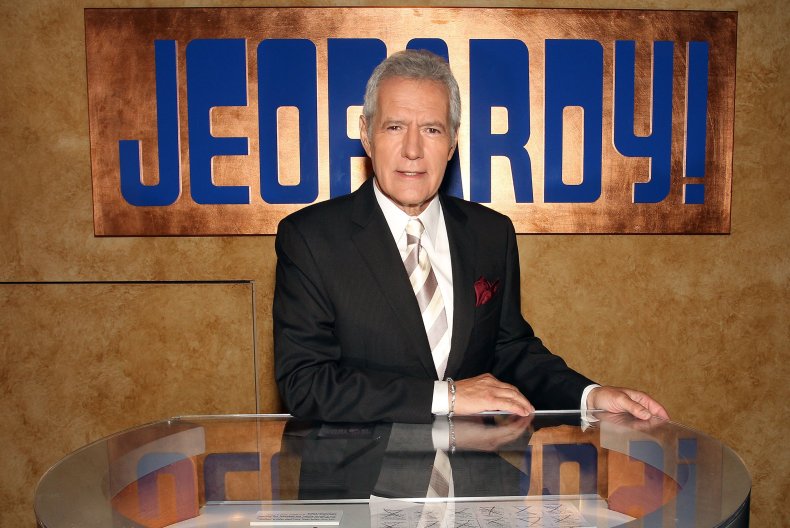 [ad_2]

Source link